Black Men Smile at Ponce City Market - Atlanta
Intro
What does my brother's smile mean to me? How important is it for me to smile when I see my brother? What makes my brother smile?
These are all questions that I go to sleep with and wake up to these days. Since we've been building this platform, I would dare to say that A BLACK MAN'S SMILE has consumed me. Images stream past my timeline and I can't help but fall deeply into them, deeply into the minds, hearts and souls of those who have shared their smiles with us. Strangers have in fact become brothers, brothers that I didn't know but BLACK MEN who I've certainly BECOME BROTHERS with throughout this process. These are my brothers! I can't help but see them that way because that is the impact that the work has had on me. I guess last Monday was one of the most recent affirmations of this newfound discovery.
This is my first blog post. This is the first of many reflections I'll offer on these pages chronicling this Black Men Smile journey. It won't be my last.
-Devan Dmarcus
As Carlton and I wrapped up our daily meeting, we decided to go to Goorin Brothers to try on a few hats. Being the cool gents that we are, we entered the shop and dapped up the fly guy Ekundayo behind the counter before perusing a bit. Sierra, one of our team photographers just so happened to tag along on the journey and snap a few photos. Here's what she saw…………..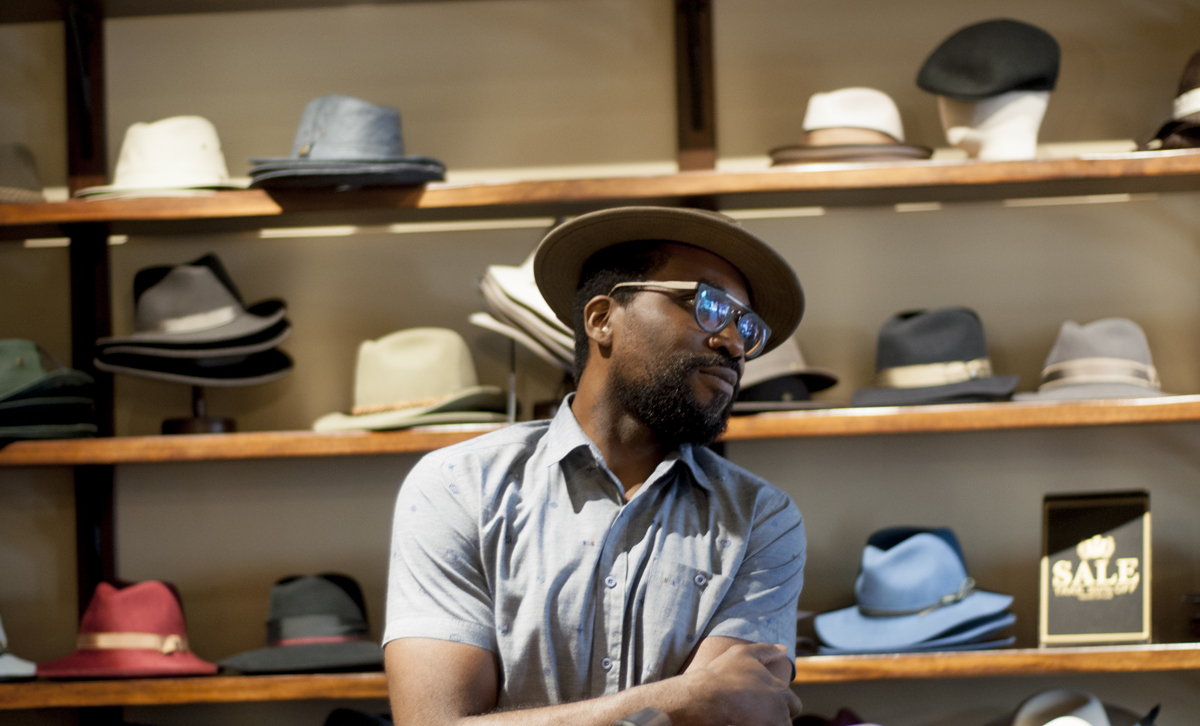 After kicking it in the spot for maybe 15 minutes or so, Carlton decided to purchase a new hat in celebration of his recent success and as a token of self-appreciation for his diligent efforts. Here he is trying to be fly like me……
6 Black Men Square Off
Now, I'm sure if you ask Carlton, he would agree that our recent encounters with Black Men in the streets of Atlanta has been nothing short of spiritual. It's almost as if the universe has been revealing glimpses of the impact that this work is having on the world and in particular within our community. Just as the purchase was made and we were exiting the store, 4 Black Men connected with us from afar! We had never met these guys before but it was as if we were all meant to be in that place at that time, to share and to fellowship. Words don't really explain what happened in that moment, so maybe these photos and this video will shed a little light on what we experienced.
Special thanks to Sierra Chastity @sierrachastity for being on point!